DYNAMIC AGING GOES LIVE! – 3/1/2018
Have you ever had the experience of creating something where there was nothing before? If you have children, you certainly can relate to that experience. How about in other areas of your life? For Joyce, Shelah, Lora and I, we had that experience when we collaborated with Katy Bowman (www.nutritiousmovement.com) to write the book, Dynamic Aging: Simple Exercises for Whole-Body Mobility by Katy Bowman with Joan Virginia Allen, Shelah M. Wilgus, Lora Woods and Joyce Faber published in March 2017. And, for me (Joan) this blog is another example of creating something that didn't exist before.
The weekend of February 15-18, 2018, another creation was manifested where it had not existed before. Katy taught the first Dynamic Aging retreat which was held at the Kripalu Center for Yoga & Health in Stockbridge, Massachusetts with 145 people in attendance.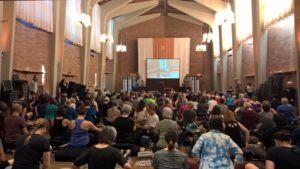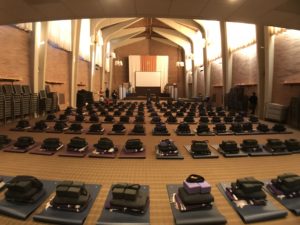 Seven certified RES (Restorative Exercise Specialists™, including me) assisted Katy in this event. People of all ages attended – adult children brought parents and grandparents for a multi-generational celebration of movement.
What did we do at this retreat? Friday night everyone sat in chairs! What's so special about that? Well, Katy is known for encouraging us to get up out of our chairs and MOVE. This was about sitting differently and how to get up and sit back down in ways that add to strength, stability and mobility. She also taught how to stand in alignment and work on balance.
Saturday morning,  sitting and lying on the floor (with chairs available as needed).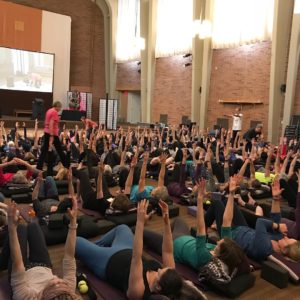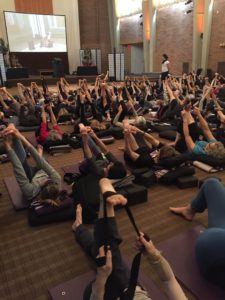 Three hours in the morning working on feet, knees, hips, and walking; two hours in the afternoon working on hands, neck and shoulders.
We seven assistants were barefoot, on our feet and constantly moving to assist where and when needed during all class sessions. (As an aside, I experienced no aches or pains throughout the program thanks to knowing and practicing alignment and restorative exercise. Before learning Katy's tools, in similar situations requiring extended time on my feet I had experienced backaches, pain in my knees, stiff neck and sore feet – while wearing shoes! This is another example of how it is possible to "get better" as you "get older.")
Sunday morning there was an awesome obstacle course with 10 different stations allowing participants to test their skills at balance, strength, and coordination while implementing what they learned over the weekend. Everyone loved it!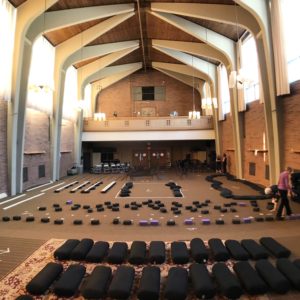 For me the whole trip was a s-t-r-e-t-c-h. From the invitation to assist received last August right up until the retreat began, I was trepidatious (yes, that is a real word). My first thought last August was "Who goes to Massachusetts in February (temps in the minuses) from southern California (temps in the 80s)?" As I began to borrow and buy clothing appropriate for Massachusetts in the winter, I wondered how I would acclimate. I traveled alone and I wondered if I would be able to lift my carry-on suitcase into the overhead while carrying a fully loaded backpack without tweaking my back. Thanks to my years of restorative practice and knowing how to engage my core while lifting,  I had no problem. I wondered if I had the right clothing. I wondered if I would survive. And, as it turned out, it was an AWESOME and MEMORABLE experience for me.
We hiked Friday morning in low 40 degree temperatures finding icy trails and slushy woodlands just starting to thaw with some new green growth breaking through.  We found a frozen lake with an eagle fishing on the ice.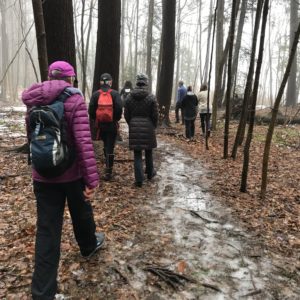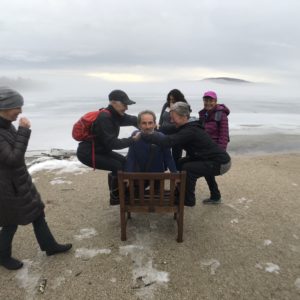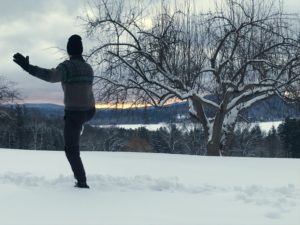 It snowed Saturday night and Sunday morning RES assistant Tim Harris was doing Tai Chi on the lawn in the snow.
The people who attended this retreat were OUTSTANDING! It was clear they were there for a purpose. There was a spirit of curiosity and willingness to try what was presented within their present-day limitations. As assistants, we gave hands-on coaching to help people feel the alignment and movement as Katy was teaching.
Katy did a book signing Saturday evening which lasted well over two hours. People sat and talked with her individually as she signed their books and then had their pictures taken with her.
I, too, was asked by participants to sign their books. People told me they found our stories in the book "inspirational." They asked me questions about things they were experiencing as they wondered if these practices might also work for them.
Two conversations stand out in my mind. First a very young woman who stopped me in the hall to share that she already had pelvic prolapse. She was inspired to attend the retreat by what I had shared in the book about how, at my age, I have been able to make a difference in my prolapse by becoming aware of how I can change my alignment, practicing Katy's techniques, and moving more. Second, a grandmother who shared that she was caring for a young grandchild and was unable to carry him around without experiencing severe backaches. She asked if I thought getting her weight back in her heels (hips over heels) might help. I was able to tell her how it has helped me do away with backaches, feet and knee problems and encouraged her to give it a try. She was delighted to now have a tool that could make a difference. (You can check it out here: https://nutritiousmovement.com/mind-your-pelvis/)
Check out the west coast Dynamic Aging retreat scheduled near Santa Cruz, California at the 1440 Multiversity Center April 6-7-8, 2018. Here's the link to find out more https://1440.org/program/dynamicaging/. I will be assisting at this retreat and maybe we'll meet there.