Sunday, December 3, 2017, family members joined us here at the Ranch for our annual decorating of the Christmas tree. It looked beautiful when we were done. Finished up with pizza and started the Christmas season with a forecast of strong Santa Ana winds blowing west for the next four days.
Twenty-four hours later, Monday, December 4, 2017, we were evacuated from our home in the forest up on the mountains due to a raging forest fire headed our way (the Thomas fire). I will never forget the sight and sound: 10:30 at night – the sky was a brilliant orange while a monstrous and ominous roar emanated from the forest. The drought of the last several years had left the forest tinder dry. As we left, I asked the fireman if we would be okay – meaning our home. His answer: "It's going to be tough. We'll do our best."
Lora graciously welcomed us into her home in town a little before midnight. We were there for eight of nine days and nights.
I felt overwhelmed not knowing if our home would survive and there was nothing we could do. The firemen were truly heroic. Of course, they could not be everywhere as the fire continued to rage to become the biggest wildfire in California history. Neighborhood volunteer heroes appeared on our mountain that very first night watching for spot fires. They continued to monitor homes up and down our remote mountain road day and night until Christmas.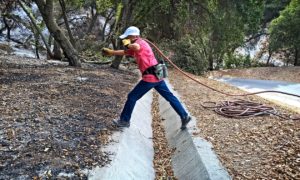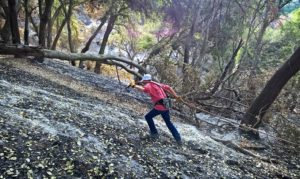 I didn't realize a forest fire doesn't just burn through and move on. There are embers that continue to smolder in the forest for days and weeks – sometimes underground and in tree roots.
Most of our trees are coastal oaks and fairly fire resistant. However, the initial firestorm burning along the forest floor ignited the base of many trees and otherwise healthy specimens fell as their roots burned.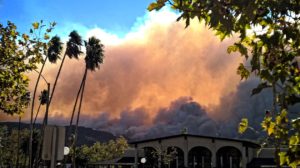 I remember one of my daughters calling me the first morning after we were evacuated. She asked me what we were going to be doing all day. "Maybe you can go to a movie," she said. Sounded like a good idea. Headed into town for breakfast. Everything was closed and there were no cars or people on the streets. It felt like I would imagine the end of the world.
As it turned out, we didn't have to worry about finding something to do – we were so busy every moment of every day we were evacuated, entertainment never entered our minds, and movement for the sake of movement was non-existent. My Vivofit showed I walked several miles each day just doing what was necessary to survive.
We did not know until Wednesday morning that our home was still standing. We could not move back in until water and power were restored which took eight days; however, it was the biggest thrill to be able to drive up the driveway and see the house standing amidst charred ruin and ash that looked a little like snowfall in southern California for Christmas – if only!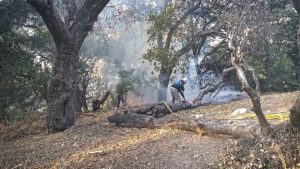 After that first night's firestorm, we experienced three more major events – fires erupting on the Ranch – any one of which could have taken our home but for the watchfulness and volunteer efforts of our local heroes. And they had to fight the fires by hand because there was no power to access our water without a fire truck connection to our hydrant!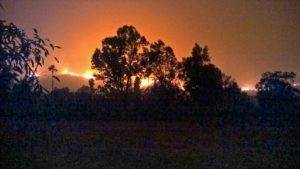 Thursday morning we awoke to news that our village was now circled by fires and immediate evacuation was recommended. So, we and Lora contacted Joyce in the Ventura/Oxnard area, where it was still safe, to see if we might go there. Joyce graciously welcomed us into her home where we stayed Thursday day and night. While there, Joyce and I did a two-mile walk in warm Santa Ana winds gusting between 40 and 60 mph. Walking for the sake of walking (to the grocery store) felt so good.
Friday morning we were allowed to come back to Lora's home. Later Lora shared with us how all the recent events had produced a humorous moment. On her way home from Joyce's, she stopped at REI. When she walked in, she was greeted by an employee asking how he could assist her. She found it difficult to respond with all the commotion/emotion in her mind. All she could think to say was "My socks are dirty. Could you show me where I can find some clean ones?"?
We returned home nine days and nights after our evacuation. Throughout our period of displacement and as we now continue to recover, we are discovering our ability to move in new ways through necessity.