From Souls to Soles Community 6/15/2018
It is said that building a nest egg for one's old age is not as important as building community. As a former hospital nurse I can agree with that axiom. Nest eggs in this country can disappear rapidly, while communities are usually there for the long haul.
Lora Finds Community in Portugal
I've recently returned from four weeks in Portugal, during which every time I asked directions or needed assistance I was listened to, helped, directed, led or otherwise honored. In one neighborhood, I casually told the owner I loved the spot he'd created by the fire. He found out how long I was staying and saved it for me each night. One couple drove us to our B & B because he couldn't describe the route we should take. Although I was a stranger, most people made me a part of their strong community. It reminded me that earlier in my life I felt like that in California neighborhoods.
The Nutritious Movement™ Community
Katy Bowman supports the communities of nature lovers, movers and seekers of better health and functionality and we gravitate to her. Not to confuse "branding" with community, it's not that we all have to buy the same shoes to feel part of the group. We participate and "belong" because of shared interest, mutual respect and structure which encourages our own creativity and expanding awareness.
Our Class Community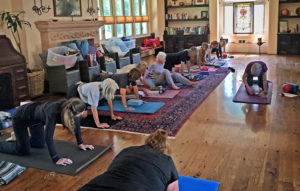 Joan and I teach Katy's work at our senior center in California and our alignment class is a treasured community that's in its eighth year. The group acceptance and honoring how each of us participates is a big part of the success. I sometimes say "clavicle" instead of "scapula" and the class takes that in stride with hardly a giggle. I accept my imperfection and the class accepts me as I am.
Segue from souls to soles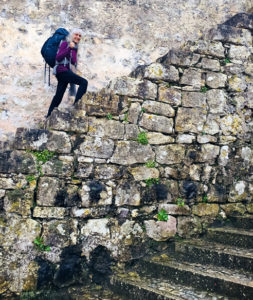 I brought only Merrill "barefoot" shoes with me to Portugal. When I arrived and saw how rugged the cobblestoned cities and mountain trails are, I thought I'd made a big mistake. The soles are quite thin and seem pierce-able. Well, they turned out to excel on every level. It sometimes poured rain and the shoes would be dry by morning. I walked and climbed from the valley floor to the top of castles with no perforations or slippage or discomfort. I think I was less tired wearing their very light weight than wearing hiking boots.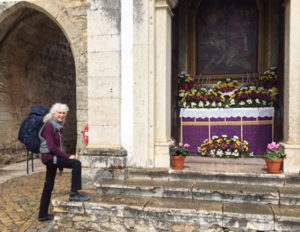 When I visit cathedrals, I believe I can tell how much their community loves them by the feelings they inspire in me. The same goes for trails.

The forests were enchanting and magical and my shoes helped ground me in the feeling of the places we hiked. The trails in Sintra, Portugal were very clean and fragrant. Every time I made a heel strike and rolled my foot forward for the toe push-off, I had the sensation of connecting with Mother Earth in a place where many others honor her. The beauty, variety of greens, and many textures reminded me of descriptions of magical forests in old stories. I felt complete, grateful to be there and connected to the mountains.
Earth's Heartbeat
NOTE: There are "waves" which emanate from the earth which some call "earth's heartbeat." They're low-level earth emanations discovered by Professor Schumann in the 1930's while working on German secret plans. Although Schumann's electromagnetic resonance has been relatively stable at 7.83 Hz, they spike at times. I mention this here because its gentle waves are commonly linked with health and brain well-being, and while walking in places like Sedona, Arizona (or mountains in Sintra), people frequently feel happy, energized yet calm and may meditate. And yes, both those places are inordinately beautiful, clean and interesting, which adds to the joy of any hike.
When in Portugal
I must include the name of what must be one of the best Inns in Portugal. "Tea4Nine Guest House" is in Braga, Portugal, owned and run by Margarita. She was not only perfect with my gluten-free diet and secured me great medical care when I became ill, she was quietly present and made sure we had everything we needed. She epitomizes the host/friend I hope I am in my community. Abregata, Margarita.
Welcome to the community of our blog.
By Lora Woods