Action is the foundational key to all success. Pablo Picasso
Action is defined as "the accomplishment of a thing usually over a period of time, in stages, or with the possibility of repetition." This has been a month of action, learning, growing and challenges = excellent August 2021!
Chapter 4, Part I – August 2021
Action – Walking
We started the month walking on the beach in Ventura, California. What a superb walking beach! We had done a 5-miler the last week in July on the same beach in 1:57. This time it took us 1:58 and I was wearing my new weight vest with 3.37 pounds. I had no idea what a difference such a relatively "small" amount of additional weight would make – not so much in my time but in how it feels especially landing in my heels to get that bone-building impact. I did it in my Vibram 5-finger shoes. Nancy has suggested I alternate between my 5-finger and my Altra Lone Peak shoes to allow my feet to gradually adapt to the additional weight so I will be doing that going forward. We did a second 5-miler on the beach a couple weeks later.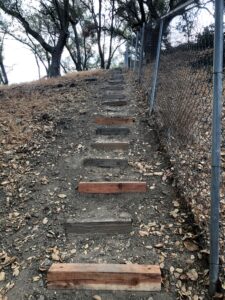 We continue walking several times a week on our trails here on the Ranch practicing balance and climbing our stairs in preparation for the 600 granite stairs hiking up Vernal Falls. Originally we built these stairs out of tree branches to facilitate navigating the steepness of the inclines. We initially put in close to 400 stairs on three sides of the property. More than 100 were destroyed by the Thomas Fire and the rest are deteriorating so we are replacing them with redwood 4x4x24″. These make a great training ground for building the muscles used in stair climbing. We are seeing progress. I am up to 180 stairs without stopping! Willis is up to 78.
Action – Hiking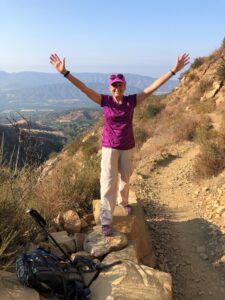 We did a repeat 5-mile moderate-rated hike up in the local mountains of the Los Padres Forest. Interestingly enough, it took us longer than previously. That was a little disappointing. And, it is okay. We continue to build hiking muscle and endurance.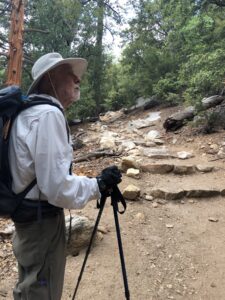 The big highlight of the month was a trip to Idyllwild, California to hike one of our favorites, Devil's Slide. We had a 1700' elevation gain in 6 miles. It is well maintained and a great challenge for us primarily because it starts at 6400' elevation and we went up to 8100' which created some breathing problems for Willis who has a history of asthma. The weather was a wonderful surprise with a high that day of 75 when it had been in the high 80s.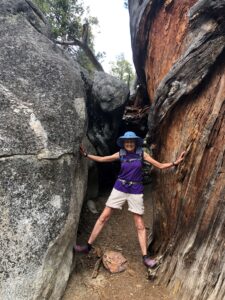 The biggest gift hiking Devil's Slide was meeting another hiker who informed us the US Forest Service was temporarily closing the National Forests in the Pacific Southwest region (including San Jacinto National Forest where we were) at midnight that night! We were so grateful that we had chosen that day to hike it. And, indeed, the next morning we checked out the road to the trail and found it closed.
Action – Getting stronger
Willis has been doing PT weekly to regain strength and mobility post hip replacement surgery. He is noticing he can now get up from a chair or the sofa with no hands! He can get in and out of the car without using his hands to lift in the replaced hip right leg. These are small steps that bring us joy and show us progress. He is having issues with the scoliosis which generated the hip replacement. Fortunately his PT is knowledgeable in working with scoliosis and will be working with him on that going forward. Nancy also recommended checking out exercises specifically for scoliosis at Scolio-Pilates,
Action – Be Stronger class – coming soon on-line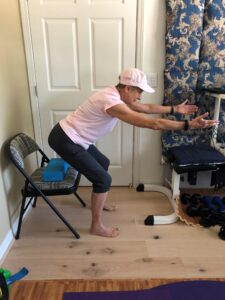 We continue working with Nancy Burns collaborating on creating this new strength-building class designed specifically for older adults. It is interesting for us to learn about where we are weak and where we are strong. Starting out, Willis was unable to lift a 5 pound weight over his head with his right arm due to an injury several years ago that was never rehabbed. I learned that I need to work on doing a "proper" restorative squat by getting up out of a chair with my knees back over my ankles. I am working on building that strength by bolstering so I start sitting higher which allows me to get my knees and ankles aligned. Willis is surprised by how tired he is by the end of each class. He had been more sedentary prior to the hip replacement due to pain and then for quite a while post-surgery. His strength recovery is definitely a journey of self-discovery at many levels.
Action – Dynamic Aging
When I started this blog in September 2017, it was the result of the publication of our book Dynamic Aging: Simple Exercises for Whole-Body Mobility. Check out this new section of the website to learn more about the history of Dynamic Aging.
Next Installment: Chapter 4 Part II – August