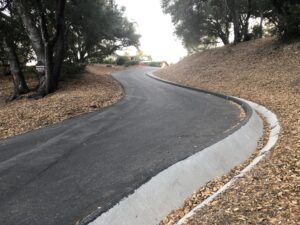 The funnest part of setting your POP (Purpose, Outcome, Plan) is having a direction. For me, knowing we are going to hike the Falls next June has an impact on each day. Every morning I awaken and think "What can I do today that will help me prepare?" Of course, I don't spend every day working on only that outcome. Life happens, after all! And it is a subtle way of integrating what I may be doing with that outcome. For example, we have a long and very steep driveway. Each day when I walk down to get the mail and then back up, I imagine I am hiking up the Falls – posterior push-off, checking out my alignment form, tracking my breathing. I am aware and noticing how in my daily life I can prepare for my journey – onward!
Chapter 2, Part II – June 2021 – Onward
Onward – Our June "Adventure/Excitement"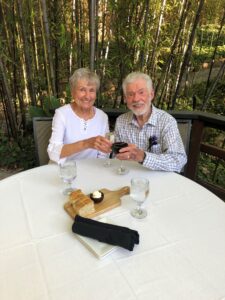 We made reservations at the end of June (to coincide with our 47th wedding anniversary) in Idyllwild, California – one of our favorite hiking locales. We traveled there frequently for six months in 2001 in preparation for a 7-day High Sierra Hike in September in Yosemite National Park. It started in Tuolumne Meadows at 8,600' elevation and included hiking to Vogelsang High Sierra Camp at 10,300 feet. Idyllwild is at 5,200' elevation and surrounding hikes go as high as the top of San Jacinto Peak at 10,800'. This was a great place to train for our High Sierras hike.
We were looking forward to returning and doing one of our favorite 5-mile hikes – Devil's Slide. As it turned out, because of Willis' limited hiking distance and uncertainty about his left hip, we decided to postpone our trip until we find out more of what's going on with him. We did celebrate by going out to our favorite restaurant and had a 5-course meal surrounded by woods and waterfalls.
Onward – June Final "Big" Hike
We started June with a really big hike – 7 miles on June 7th that set us back! Our final "big" hike for June was Monday, 6/28. We were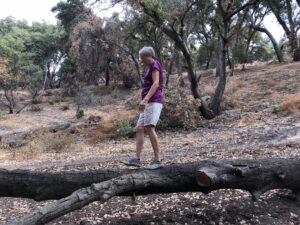 encouraged that Willis was able to do 2.87 miles on our Ranch mountain trails. After the hike, he called his hip surgeon and got an appointment July 1st for x-rays of both hips. He wants to stop guessing and get a baseline on what is happening. As for me, it felt great to be able to hike 4 miles in my Vibram Fivefinger shoes on the Ranch trails. Looks like my feet are getting tougher. Also when hiking with my Vibrams here on the Ranch, I add balance training using fallen trees as balance beams.
Onward – Exercise
I signed up with Body Wisdom Studio owned and operated by my friend and fellow RES (Nutritious Movement certified Restorative Exercise Specialist), Nancy Burns. Two reasons for this move: one is to keep my RES CEUs (continuing education units) current. The other is to resume structured whole-body exercise/movement in preparation for hiking the Falls. I also invited Nancy to be my personal trainer on this adventure and opened the possibility of her creating a new class for her students. She invited me to send her a proposal based on what this relationship would look like in my perfect world. She will get back to me in July.
Onward – Resources
I have been looking for a YouTube video of hiking Vernal and Nevada Falls and an accurate estimate of the distance and time it should take. I found Hiking Guy and his video of the Falls hike. His site has what I wanted for our hike and so much more. We were reminded of the option to return from the top of Nevada Falls via the John Muir trail. That is our plan for a 7.5 mile hike. He includes maps, videos, hiking gear and lots of tips based on firsthand experience. We will be using his amazing list of hikes going forward as we train for next June.
Onward – Joan's Hiking Equipment
I am practicing in women's Altra Lone Peak 5 Trail Running Shoes and they seem to work well. Nancy suggested them and she is an avid hiker. Hiking Guy also suggests them. They are "zero drop" meaning the heels and toes are the same distance off the ground and have a stack height of 25 mm which helps cushion the head of my metatarsal bones at the ball of my foot. The fleshy pad that should protect them is no longer there or has slipped out of place. I put Pedag Metatarsal pads in each shoe which helps alleviate any discomfort. Then I insert a Spenco flat insole cutting off the front of the pad just behind my toes to allow my toes to drop while adding more padding for the rest of my foot. Post hiking I use Correct Toes to help keep my toes separated which enhances balance.
Onward – Willis' Hiking Equipment
Willis is using Merrell Yokota Pulse men's waterproof boots and they are working for him thus far. Practicing with them starting now allows time to evaluate the shoes' performance. He uses Leki Makalu adjustable anti-shock hiking poles I carry the same poles and use them sparingly because I want to continue working my balance and building core strength. I make sure I have them with me because they are handy to have for precarious terrain and to support my knees as needed especially when going downhill.
Next Installment: Chapter 3, Part I – July 2021