MORE ABOUT JOYCE – 12/16/2017
I became a certified Restorative Exercise Specialist™ in 2013. (To learn more about restorative exercise check out http://www.nutritiousmovement.com.) I was so excited and enthusiastic about sharing what I had learned and was experiencing personally, I volunteered to teach restorative exercise at the independent living apartments where my husband and I were then living to accommodate his multiple health challenges before his passing. My class consisted mostly of people in their 80s and 90s – many of whom were using walkers.
I learned about modifications, about listening, about watching, about adapting to the needs of my students. (That's me learning to teach from a chair.)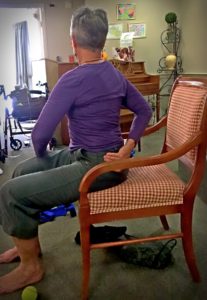 And about commitment – both mine and theirs. These photos show one of my classes doing foot exercises while seated. Some days they are able to do some standing exercises. It's all about movement – large or small.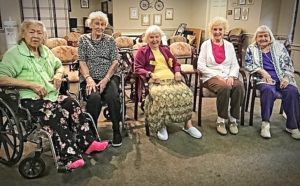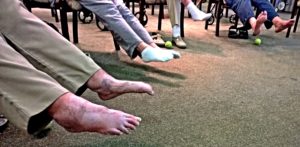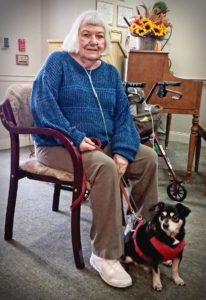 This is JoAnn, age 80, with her dog Jeffry Edgar Littleton. Why three names? "I have three names," she says, "why shouldn't he?" In the few months she has been attending class, the pain in her feet has completely disappeared thanks to her daily practicing and taking walks with Jeffry four times a day.
One 90-year old gentlemen started two years ago with neuropathy and pain in his feet. He is now able to move his toes and feet free of pain and continue walking. Another lady, also in her 90s has been working on her balance and strength. She can now get up and down from a chair with minimal use of her hands.
I found Katy Bowman and Restorative Exercise at age 69. I was suffering from severe knee injuries and was facing meniscus surgery on both knees. I had a hairline fracture in my cervical vertebra which was causing nerve pain and numbness from my cervical plexus down both arms. And, I was experiencing balance challenges. As I mention in our book, Dynamic Aging: Simple Exercises for Whole-Body Mobility, I was no longer comfortable climbing a ladder to pick fruit from my trees. And I was falling when I went out to walk. I had always been active all my life! I figured this was "old age."
Joining Katy's restorative exercise classes literally turned my life around. From the very first class, I began noticing changes in my body. And I began to learn the CAUSES for what was happening to me. This wasn't "old age." This was old habit patterns coming back to bite me. There is no disease called "old age." There is just the accumulation of years spent treating/holding/moving/not moving my body in certain ways that produce results. If I walk out of alignment – even something as simple as my feet not being "straight" – over the years there will be ramifications in my feet, ankles, knees, hips, back, shoulders, neck and head.
Today at 80 as a result of my restorative exercise practice, I have seen significant improvement in my whole-body movement so that I no longer have pain and numbness in my neck and arms, I am able to walk in my Vibram five-finger shoes and hike in the mountains, my balance is excellent and I welcome the opportunity and ability to climb the stairs in my new two-story home.
I also teach a small class in my home with four students in their 50s and 60s – Julia, Shelley, Birgit and Mary. Shelley, age 67, says: "I started attending Joyce's classes because at age 79, she seemed to look and feel better than I did!"
This is a fun experience for me. Some weeks we meet in my home to work on the correctives; some weeks at a local park to learn how to walk in form, hang from bars and climb trees; and, some days at the beach to practice walking in the sand. On this day in early November, Birgit, Julia and Shelley have joined me at the park. Here is how we learn, play and MOVE!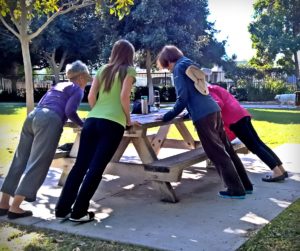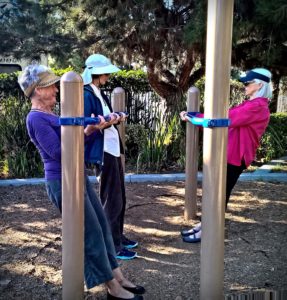 Julia, age 57, came to class with one leg shorter than the other, severe foot deformities, fibromyalgia, hyper-mobility syndrome, scoliosis, botched surgeries, metal plates and screws in her feet, and flat feet. Practicing the correctives, she is developing arches. "My podiatrist couldn't even believe it and I am thrilled by this! By learning and using the gentle methods taught here, my pain has decreased and my mobility has increased. I am retraining my body to really function: to stand, sit, walk and move in a way that promotes comfort, circulation, flexibility, mobility, stability and yes, even confidence!"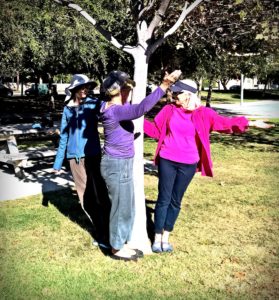 Shelley, age 67, was experiencing back, hip and leg pain with frequent leg cramps and was beginning to lean forward. At first the exercises didn't make sense to her. Today after ten months she says: "I am continuing to learn more with time. Katy's biomechanics philosophy makes more sense to me now. My back rarely bothers me, I stand up straighter and my legs hurt less. I am motivated to continue learning and practicing so I'll have less pain, better mobility and better overall health."
Birgit, age 63, started noticing pain, stiffness and instability six years ago while hiking. She thought she was getting "too old for these activities." She started in a class with Shelah and me and immediately noticed changes. Today she can walk barefoot and is hiking with ease and confidence free of pain. "Joyce and Shelah are wonderful teachers and role models. I'm grateful to them for introducing me to this new science-based approach to movement. I have the tools now for a physically active retirement. That's been a huge psychological boost."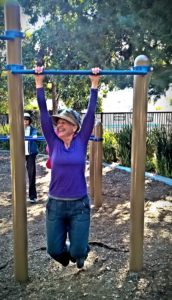 For me, I feel privileged to have touched the lives of all my students over the years in some small way to get them moving.