Moving on the Ranch – 5/15/2019
Moving Forward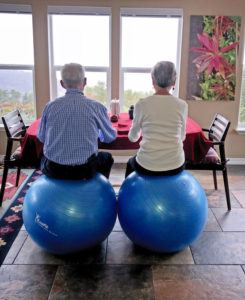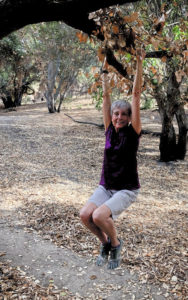 Moving forward can occur in a variety of ways. We can move our bodies physically forward across the planet. We can move our way of thinking into new possibilities. And, we can choose to move dynamically into each new year of our lives. My husband, Willis, and I share 48 contiguous hours of celebration each year on our birthdays – which just happen to be this month. We get to celebrate two days in a row because he was born two years and two minutes before me! He was born and raised in Hollywood, California – a real city boy. I was born and raised in Portland, Oregon – a country girl through and through. We met in southern California at a Parents Without Partners dance in 1972 and, as they say, "The rest is history." Our combined families include four amazing children and eight awesome grandchildren.
Moving in Nature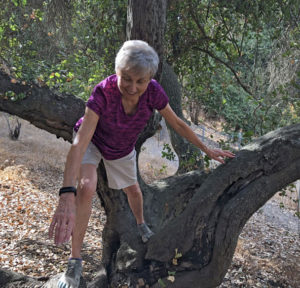 One of the things we love doing together is hiking. Growing up Willis' family used to spend time every summer in Yosemite for hiking, fishing, and swimming.. Growing up, my family always vacationed somewhere in remote nature for hiking, fishing, horseback riding and swimming. Our families loved to move in nature thereby instilling a love for movement and natural environments. As a result, this was the foundation for our love of hiking the National Parks.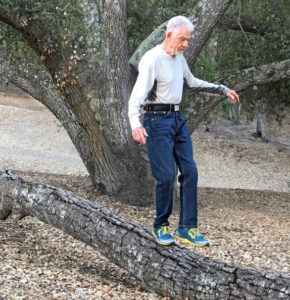 Center for Moving
Willis was an information technology and ride control engineer from Disney and I was an elder law and estate planning attorney. Because of our history of nature and hiking, when we began to contemplate retirement, we were drawn to the mountains near a small village in southern California. It is next door to a National Forest with lots of hiking trails and the beach is 30 minutes away. We found our dream – a 10-acre undeveloped forest on the side of a mountain – and named it Centripetal Ranch. Centripetal means "moving or tending to move toward a center." And that was our intention – this would be our center for family and friends and moving. Every day we say "Just another day in paradise," like Tom Selleck in the old TV series Magnum P.I.
Trail Moving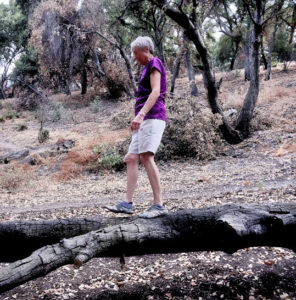 Shortly after moving in, Willis began creating a series of hiking trails throughout our forest.Being on a mountainside, there were lots of uphills and downhills. As time went by, branches and trees would occasionally fall and we would use them as "features" on our trails. They make wonderful balance beams and step-up/step-down venues. Consequently, all of this was perfect to keep us moving.
Parcourse Moving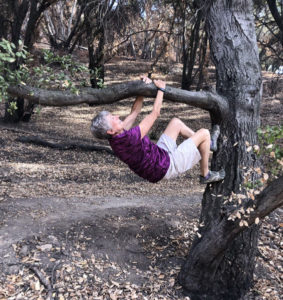 After the infamous Thomas fire in December 2017 raged across the Ranch, we had a lot more "features" on our trails. Now I call it my parcourse. A parcourse is typically an outdoor exercise track equipped with stations along the way where you can stop and perform a specific exercise. Our parcourse is our hiking trails. Our stations consist of what the forest gives us – fallen trees and branches to exercise our balance, trees to climb, tree branches to hang from and a natural jungle gym as a relic from the fire.
Moving and Aging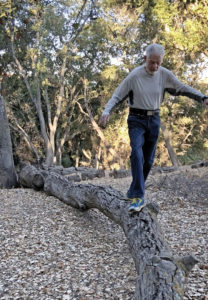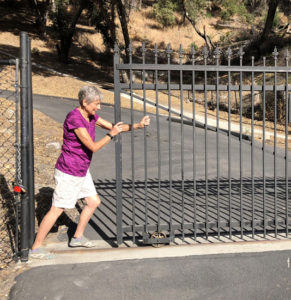 For a Hollywood boy, Willis has taken to the Ranch like a duck to water. His engineering background and creativity were invaluable as he designed and implemented our water system (all we have is a well on the property.) Maintaining a 10-acre forest is not for the faint-hearted. He is my hero. He says his dream as a kid was to live on a deserted island where he would have to do everything. Seems like you have to be careful what you wish for! For me, I love being able to step out the door and onto a hiking trail that takes me into a forest with awesome views from every angle. Above all, we share this paradise with birds, deer, coyotes, bobcats, squirrels and lots of insects. And everywhere we look, everything is moving, growing, and flourishing including us as we celebrate another birthday together in paradise.