Teaching From Experience – 10/31/2018
Teaching from experience means teaching from what we have learned in our lives. This is teaching from reality as we experience it. No matter your age, you have had certain experiences that are true for you. When you share those truths with others, you share possibilities. For Shelah, Joyce, Lora and me (co-authors with Katy Bowman of the book, Dynamic Aging: Simple Exercises for Whole-Body Mobility), we teach alignment based on the Nutritious Movement® Restorative Exercises. We teach this because it has made a difference in each of our lives – physically, emotionally and mentally. By sharing and modeling these changes, we create the possibility of change for others. And, we continue to improve our own lives by moving more and moving better.
Teaching from experience – Certification
All four of us went through our RES (Restorative Exercise Specialist) certificate training live with Katy Bowman while she still had her studio in Ventura County. It was AWESOME! Katy is an amazing teacher who enthusiastically shares what she has learned while modeling what she is teaching. If you have ever had a class with her, you know what I mean. If not, check out her Virtual Nutritious Movement classes. This is how I earn my CEUs (continuing education units) to continue to be a Nutritious Movement® Certified Restorative Exercise Specialist. These classes are the next best thing to being in a class with Katy live.
What next?
Lora and I carpooled to all the trainings and classes every day for six months – April 2010 through October 2010. As soon as we completed our live training in October, we took the RES exam, passed and were certified. We then looked at each other and said, "What next? This is too good to keep to ourselves." Lora was 69 and I was 72.
Teaching from experience at our local senior center
We headed out to our local senior center. There we offered to teach (free) a class called Alignment for Wellness. Thanks to our book, we now call it Alignment for Dynamic Living. They jumped at the offer and in March 2018 we celebrated our 7th straight year of teaching a weekly class. The response has been GREAT! Lora and I attend each class and alternate teaching – one of us instructs and the other one assists. We have very distinct styles of instruction. Alternating weeks has worked well for us and our students seem to love it.
Photos and Comments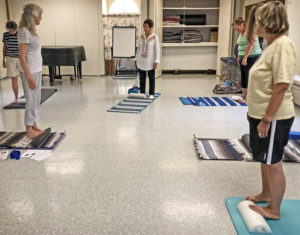 "I have been attending class since January 2018. Although I still have a ways to go, I am more conscious of how I sit, stand and move through space. I'm more aligned as I walk and am able to go a greater distance without an old knee injury acting up. And I feel stronger in my body. The exercises help with balance, strengthening muscles and bones, and I feel more confident in moving. It is satisfying to my body to move in ways that best support it." Linda M. age 79.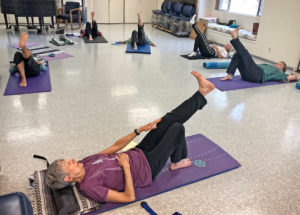 "I have osteo-arthritis and this class helps keep me walking two miles a day and keeps my joints pain free. I've learned so much on alignment and how it works for a better and healthier body." Jan F, age 59.
"This class keeps me healthy and learning." Judy M, age 81.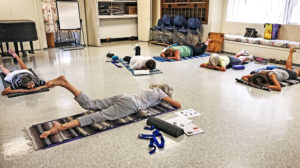 "These classes have helped both my back and hips feel better." Laura B, age 63.
"I see a marked improvement in mobility, balance and overall well-being. Now I am more aware of my body and how I move both in and out of class." Judy F, age 71.
"These classes help me stay focused on my alignment which helps my scoliosis." Rosemarie, age 75. (NOTE from Joan: Rosemarie first joined our class in the summer while her regular yoga class was on hiatus. She told us she would only be here for a couple months until yoga resumed in the fall. She still does yoga – now in alignment – AND is still one of our regulars.)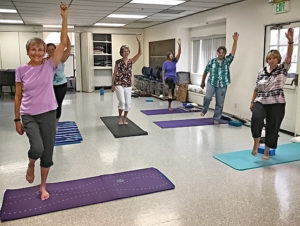 "This is not just a class. I am learning to understand movement – how I move. Change is now possible as I am able to integrate what I learn into my daily life. This increases my awareness of how I move." Lynn R, age 61.
Modeling movement
Lora and I live in a small community designated as a "village." We love that we see folks we know whenever we are in town. Some are from our class at the senior center. And they are the first ones to comment: "Oh, look at your feet – they're ducked out!" Or, "Shouldn't your weight be back in your heels." Or "Ramp your chin!" It's all in good fun AND it helps us remember what we want to share and model as we go through our daily lives.