Chapter 1 , Part II – May 2021 – Beginning
Every journey has a beginning – first the word and then the action. Part I was about the word – purpose, outcome, plan. Part II is about the action.
We are creating an "adventure" each month that will include "excitement" and physical challenges/movement. These will build the strength, stamina, endurance and balance to hike Vernal and Nevada Falls ("the Falls") in Yosemite National Park. (Now scheduled for June 2022 (moved from May because of reservations in the Park).
Beginning in Maui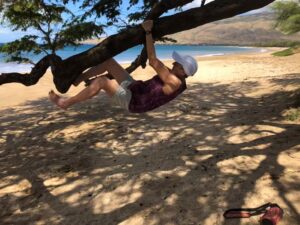 In May 2021 we spent two weeks in Maui, Hawaii celebrating my 83rd and Willis' 85th birthday. Part of the excitement is having been vaccinated and feeling safe enough to travel to one of our favorite destinations!
The physical challenge is building up our endurance and stamina by daily beach walking increasing distance while reducing time. We have come to one of the most awesome walking beaches here on Maui.
Beginning – What do we want?
We decided we want to explore how far we can walk on the beach each day and how much we can improve our time working up to 5 miles. This will be a s-t-r-e-t-c-h for us (getting out of our comfort zones) because it is something we have not been doing. The reason we want to do this is to begin building our confidence through accomplishments that show measurable progress and bring us a step closer to hiking the Falls.
Our result was we started doing 2 miles and increased the distance each day. Before we left we did 5 miles and reduced our minutes per mile. Willis learned he had the endurance and stamina to create that result and have enough left over to finish strong at the end. I learned I could do it barefoot! With that learning, going forward we will continue challenging ourselves and listening to our bodies.
Beginning – Specificity in Training
When we returned to the Mainland, we began hiking several days a week on the trails we have created here on our Ranch on the side of a mountain. Translating 5 miles of beach walking to hiking up and down hills is interesting. So far Willis has been able to do 3 miles and I have done 4. And we are now training more of the muscles that will be needed for hiking the Falls.
Beginning – Noticing Fears
We noticed some fears creeping in around our ability to complete this adventure. Willis is noticing some discomfort in his left hip. Could this be the harbinger of another hip replacement? Or merely fatigue at using muscles that have been underused for so long? And I have been experiencing digestive and elimination problems since mid-March. Finding a gastroenterologist has been challenging. Finally I have a telehealth appointment on June 2nd.
I notice I have a story in my head that this could be a serious problem – maybe even colon cancer. This story is based on an experience I had early last year which resulted in hospitalization. This story was causing me unnecessary anxiety until I got the facts. I chose to set the story aside as history and to focus on the fact that right now I feel healthy and energetic and I have a doctor's appointment. And I am motivated to stay aware of my nutrition, hydration, rest and continue hiking.
For Willis, he is doing what he can to alleviate his discomfort and continuing to hike with the expectation that he will handle whatever evolves when the time comes.
Beginning – Our First Official Hike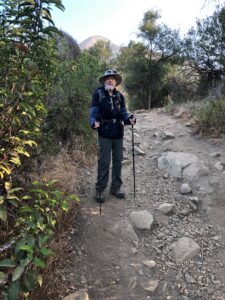 On Memorial Day, we decided to put our training thus far to the test by beginning to hike one of our local mountains in the National Forest. We decided to s-t-r-e-t-c-h by hiking up 3 miles and returning. The elevation went from 1200' to roughly 2500.' Walking the Maui beach had given us the endurance for the distance but had not worked the muscles necessary for uphill hiking. This was a whole different experience. It took more energy, effort and time. We completed the 6 miles in 4 hours. On the return at about 4.5 miles, I tripped and fell splitting my eyebrow and spraining my right wrist. And after applying a band aid to my eyebrow, I was able to complete the 6 miles. I didn't even notice the wrist until later in the day.
Beginning – Choices
Now I have a choice: I can dwell on falling and all the dangers of hiking "at my age" and choose not to continue our adventure; or I can choose to learn to be more mindful as I hike and continue preparing for our adventure – our journey into the unknown. For me, I am too curious to stop! I want to see what is possible. So stay tuned for future chapters.
Next Month: Chapter Two – June 2021