Movement Renaissance, Too – Window Washing – 3/15/2019
Window washing is my least favorite chore of all. Except for the opportunity to move in a variety of ways, it seems a waste of time. They just get dirty again. We had not washed our windows since the Thomas Fire came roaring through on every side of our home on December 4, 2017. Finally, last August we decided the time had come. And this turned out to be another Movement Renaissance.
All the Right Equipment
Willis, being an engineer, had all the right equipment plus a new addition – a pressure washer I have nicknamed R2D2. He reminds me of the robot in the Star Wars movies. And, he is just as valuable when it comes to washing cars, washing outdoor furniture and washing and rinsing windows.
Early To Rise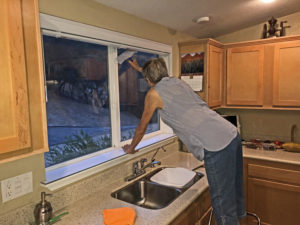 We got up early so we would not have the sun shining on any windows while we were washing them. Sunshine makes it almost impossible to get them clean before they dry. "Early" for us was 5 a.m. By the time we got the equipment assembled and had breakfast, it was 6:30. Here, you can see it is just beginning to get light outside as I am starting on the kitchen windows – which are THE WORST!!! They are over the sinks and receive constant splashing.
We totally lucked out on the weather. It was foggy with no sun until almost noon and it stayed in the mid-60s until we were done. Considering it was the end of summer and it had been in the 90s, we were indeed fortunate.
Window Washing Moves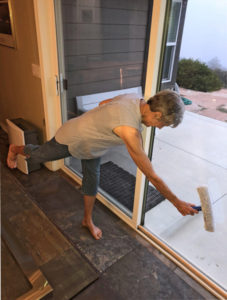 When we talk about "movement," window washing certainly offers a lot of opportunities for inventive moves. First, there is the actual washing of the window. We used a mixture of a little Joy detergent and warm water. Next is rinsing the windows with clean water. Then using a squeegee to uniformly get the water off the window. And, finally, using a microfiber towel around the edges to get where the squeegee missed. Willis had removed all the screens so he cleaned the windowsills and screen tracks. Then I opened each window and cleaned the window track. The fun part was seeing where we had been as we methodically moved around the house. Willis even did the transom over the door and the trapezoid windows in the front of the house.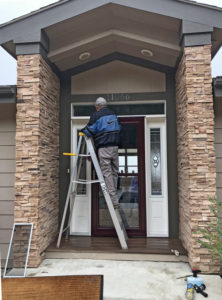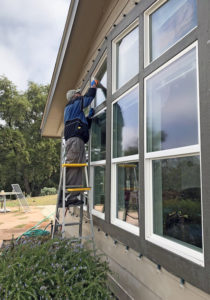 Lots of Windows
We have more than 25 windows in our home. (We wanted a view of the beauty of our surroundings sitting up on the side of a mountain looking down to a valley and across to mountains on the other side). That takes a lot of glass and we love it 99% of the time. Not so much when it comes to washing all those windows inside and out. Of course, the result is spectacular – for a while – until weather comes in. So we enjoy it while we may and are grateful we are physically able to accomplish this task.
Check out the View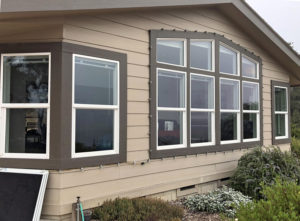 Here's where we were at 9:30 a.m. Love this wall of glass looking out over our "domain." However, all of this still needed to be done plus another five windows around the back corner! We finally finished 6.5 hours after beginning. We took no breaks. Don't know if I would recommend that – we just wanted to finish.
Will we continue to wash our own windows? Don't know yet – still too exhausted to think ahead that far. The reward is AWESOME – clear views in all directions and bodies that celebrate the ability to do all those moves.