Commitment to the Journey
Friday morning, May 20, 2022, we parked in the trailhead parking lot in Yosemite National Park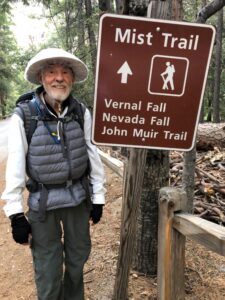 and walked to the trailhead of the Mist Trail going up Vernal and Nevada Falls. We started up the trail at 8 am with Willis in the lead. And he stayed there until the end. It was my honor, privilege and an inspiration to join him on one of the toughest challenges we have taken on. Six hundred granite steps to the top of Vernal. Another – who knows how many – steps up to the top of Nevada Falls. All steep, deep and up! There was no turning back for us – our knees would not tolerate going down those steps. So we were committed to going to the top where we joined the 4-mile John Muir Trail down a more moderate decline but NOT EASY!
People of all ages stopped Willis multiple times on the trail to ask how old he was. It was clear they were inspired by his courage in taking this on. I believe several people got new ideas of what "old" age might look like. We reached the top of Nevada Falls at noon, stopped for a bite to eat and started down the John Muir Trail at 1 pm. At 4pm, we arrived back at the trailhead and at the car at 4:30pm. We looked at each other in amazement, exhilaration and exhaustion – "We did it! Commitment works!" Big hug! Lots of love, respect and admiration for one another and our accomplishment. No time to rest on our laurels – we had reservations for a celebratory dinner at The Mountain Room with Yosemite Falls outside the dining room window at 6:15pm. What a day – dream come true!
Our matching Apple 7 watches reported we had climbed 2,000 feet in elevation, spent 7 hours actually hiking, and covered 10.5 miles roundtrip from our car.
Our Gear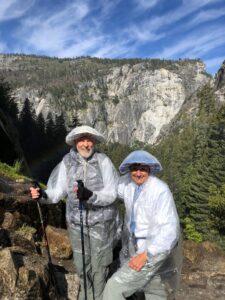 I wore my Altra Olympus trail shoes with Sealskinz socks and my feet stayed totally dry despite pools of water waded through and drenching mist from Vernal Falls. Willis used his Merrell mid-waterproof boots and they worked perfectly. We had rain covers for our cloth hats, and knee-length ponchos with hoods and elastic at the wrists. We both used hiking poles and without them, we would not have made it. The steps are steeper and taller, and there are more of them than we had remembered from hiking them 25 years ago. Nobody talks about the stairs to Nevada Falls and they are significant. Once again, commitment paid off.
In mid-April, I strained my left trapezius (shoulder/neck) muscle which precluded using a backpack. I thought it was a disaster when in fact it turned out to be a gift. In early May, I researched and started using a lumbar waist pack (Osprey Seral 7) with a 1.5 liter hydration pack. Fully loaded with water and what little I needed to hike the Falls, it weighed about 6 pounds total. It was so comfortable, I never noticed I had it on! I did run out of water about 2 miles before the end and used cough drops to finish. Commitment!
Unplanned Hike in May
In May, we had started hiking at higher elevations to oxygenate for the Falls' hike which starts at 4,000' and climbs to 6,000.' We did another 8-mile hard trail trying out the lumbar waist pack and I loved it. We traveled to Sacramento for our birthdays, May 13 and 14. Willis spent his with his brother in Santa Rosa. As a staff coach for McLaren Coach Training, I spent mine with daughter Cami completing the final weekend of the year-long program wrapping up the teaching and celebrating the accomplishment with the 13 new graduates. Monday, we headed for South Lake Tahoe where we did another higher elevation hike up Angora Ridge – 4 miles from 6,400′ to 7,200′.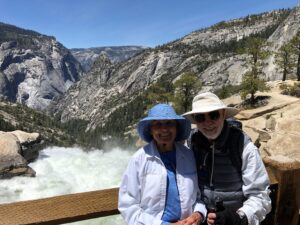 Since we would be going near Yosemite on our return to SoCal, Willis said he wanted to stop and do a practice hike. We lucked out and got 2 nights at the Yosemite Lodge. We slid in Thursday night, hiked the Falls Friday, and headed home Saturday.
What about June?
When we planned this hike last May, we invited our family to join us. Two of our daughters, one son-in-law, two grandboys and a family friend accepted our invitation to do it either June 13 or 14. Now that we have done it, I asked how this might affect their plans? They said they are committed to doing it whether we do it again or not. We will join them in Yosemite. Whether we hike again remains to be seen. We are still recovering. We had no physical problems other than maximum exertion, leg fatigue on the steps, weariness because the total distance was significantly farther than we thought it would be and it took us longer than we expected. Willis' right knee is a little swollen and sensitive. We continue hiking and are curious how long it will take us to reach what we consider full recovery.
#Intention!
I invite you to read my blog post in November 2021 called "Intention." This formula has worked for us in accomplishing the Purpose and Outcome we promised ourselves in May 2021. We are living proof that it works! It kept us on track through injuries, setbacks, doubts, fears and age-related concerns of others.
Dynamic Aging
My thanks to Katy Bowman and the movement work she has created. I acknowledge myself for diligence in practicing her work for the past 13 years. I know this was a major part of making the hike. This month Katy is celebrating the 5th anniversary of our book, Dynamic Aging: Simple Exercises for Whole Body Mobility with a podcast interviewing her four co-authors, formerly Sassy Septuagenarians, now Awesome Octogenarians. Also, thanks to Nancy Burns for her Be Stronger classes using Katy's foundational work to create a most effective strength-building program for older adults.
Coaching Dynamic Aging
What do you want to create in your life? When will you take on the changes you want to make? What would be the value of having a coach to facilitate your journey?
I invite you to contact me at

[email protected]

for your complimentary Introductory coaching session!