"If you want to go quickly, go alone. If you want to go far, go together." – African Proverb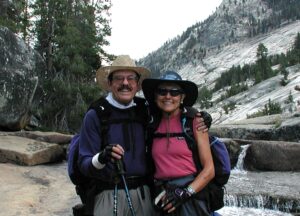 My husband, Willis, and I have been on this journey together now since May of 2021 – preparing to hike Vernal and Nevada Falls in Yosemite National Park in June 2022 at the ages of 86 and 84 respectively. We are getting close to completion of this commitment – 6 more weeks and counting down. April has been a month of ups and downs – not just hiking. It has been a month of learning, of facing fears, of celebrating good news, of hiking and of reunion.
Learning Together
We are refining our hiking gear. The hike up the falls is likely to be quite wet from the mist. My preferred hiking shoes are Altra Olympus 4 trail running shoes. The have enough stiffness and cushioning to protect me against the discomfort of my metatarsalgia. However, they are canvas. I tried the Altra Lone Peak All-Weather mid boots. They seem to be a fine boot just not for me because they are "mid" – they come over my ankles. That's great for those who are looking for ankle support. For me, coming from Vibram barefoot shoes and the low cut Altras, the mid felt like it was limiting my flexibility so I decided to stay with my Olympus. How to keep my feet dry? Sealskinz – waterproof socks! I am using the lighter weight warm weather ankle socks that fit perfectly in my Olympus' shoes.
Celebrating Good News Together
Willis went in for his annual physical exam and passed with flying colors. He told his doctor, "I am doing this hike. If I get tired, I'll rest. I am doing this!" After our Desert Hike in February, Willis had blood in his urine for about a week. He saw his urologist for a cystoscopy this month and no problems were found. Another win! So, he feels he is ready to go.
Facing Fears Together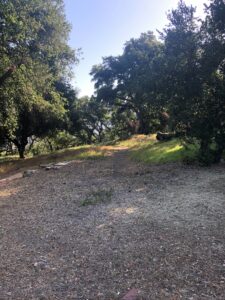 When we were younger, we never thought about injuries when we were hiking to the bottom of the Grand Canyon or hiking for 6 days in the High Sierras out of Yosemite. Now we are more aware of not getting injured. Especially now that we are so close to our outcome. About midway through the month, I developed debilitating pain in my left shoulder/trapezius/neck. It turned out to be a strained trapezius muscle. Fear! How am I going to train with a backpack and continue upper body strength building?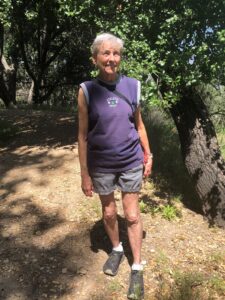 I got coaching on feeling discouraged and disappointed. With the help of my coach, I discovered and identified the voice in my head that was disappointed and discouraged with me. So now what? I could stay and listen to that, or I could choose to look for what is possible now. When I awakened this morning, 4/30/22, I decided to hike on the Ranch without a backpack. Armed with only my trusty canteen, I did 6 miles in 3 hours 3 minutes with 1,600+ elevation gain! The judgy voice wants to say, "Yeah but what about the backpack?" And, I don't know the answer yet. What I do know is I'm not listening to that sabotaging voice anymore and am focusing on what is possible and taking action.
Good news! My nocturnal leg cramps are disappearing as a result of the anthroposophical remedies. I will stay on them for the next 6 months to adequately address the underlying process. My takeaway from this experience – be willing to ask for help and be open to new ideas!
Hiking Together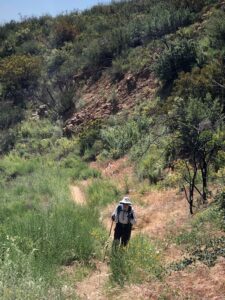 Good news! Our biggest/longest/hardest hike, earlier this month was a repeat of the Gridley trail. Rated as Hard, with an elevation gain of 1,584 feet, we felt good about our time of 5 hours. Even more important, we felt only minimal discomfort the following day.
I also did a couple 6-milers here on the Ranch. It is amazing because we are on 10 acres on the side of a mountain at an elevation of about 2,200 feet. We get a lot of up and down. And, in those 6 miles, I had an elevation gain of over 1,700 feet. Now we need to start doing higher elevations since the hike up Vernal starts at 4,000 elevation and the top of Nevada is at 6,000 elevation. Not terribly high AND we want to acclimate before taking it on.
Reunion Together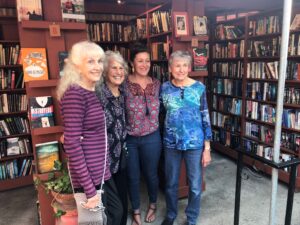 Five years ago, Joyce Faber, Shelah Wilgus, Lora Woods and I, savvy, sassy septuagenarians, co-authored the book Dynamic Aging: Simple Steps to Whole-Body Mobility, with bio-mechanist and author, Katy Bowman. Katy wrote the "technical" part of it. We 4 "goldeners" told our stories of working with Katy and how it had affected our aging processes. Now 5 years later it was fun to check in and see how we awesome octogenarians are aging dynamically. To celebrate our 5th anniversary, Katy is declaring May as Dynamic Aging month. Check out her website at www.nutritiousmovement.com for more information including a podcast with we four "goldeners." We missed our treasured co-author Shelah Wilgus who is currently living in Georgia and unable to join us for a reunion with Katy in Ojai at a talk and book signing she was doing at Bart's Outdoor Bookstore. We miss you Shelah!
I

invite you to contact me at

[email protected]

for your complimentary Introductory coaching session!