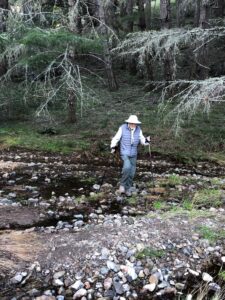 "Set your goal and keep moving forward." Georges St-Pierre. This post is a continuation of the last post, Preview, about the "movement" vacation/business trip we took around Thanksgiving. The purpose of this post is to highlight the movement portion – how we continued our intention, training and commitment to hike Vernal and Nevada Falls in June 2022.
Thanksgiving – 5K Walk
For at least the past 20 years, Willis and I, along with our son and daughter and their families who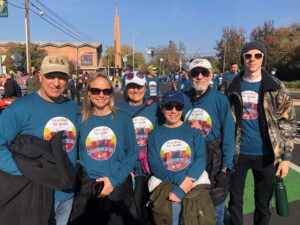 live here in southern California, travel to Sacramento to celebrate Thanksgiving with our daughter and family who live there. The tradition is to get up early Thanksgiving morning and walk the 5k (3.2 miles) in the fund raiser called Run for the Hungry which raises money for the Sacramento Food Bank. Walking together as a family through all kinds of weather is a fun way to bond as we have watched our grandchildren grow from early childhood into adults. Afterward we have a feast, watch football, and play a card game passed down from my grandmother, called Demon. Family traditions are such fun! We also celebrate two birthdays over the Thanksgiving weekend – our son-in-law and one of our grandboys. This keeps the festivities going.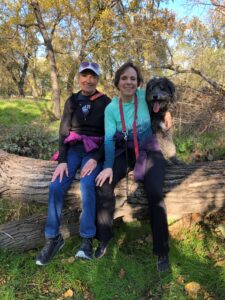 More Walking
The weather this year was perfect – clear blue skies and moderate temperatures. Over the weekend we walked along the American River with daughter, Cami, and her dog Minnie, marveling at the colors of fall along the riverbanks. Not only did we get in a 4-mile walk, getting up on this log used some of that strength I have been building in Nancy's Be Stronger classes. Notice our feet are well off the ground!
Moving on Mt. Tamalpais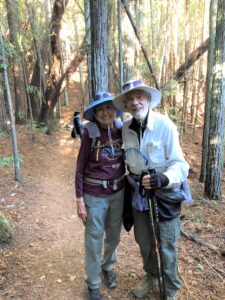 After Thanksgiving, we traveled to the town of Mill Valley, California in the Bay Area, where we began exploring hiking on Mt. Tamalpais. My friend and RES cohort, Nancy Burns, has her studio in Point Richmond and leads Saturday hikes on Mt. Tam. I had hiked with her once in this wonderland of trails and was smitten by the richness of the environment including streams, waterfalls, redwoods and spectacular views all the way to San Francisco and down to Stinson Beach.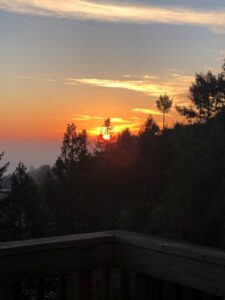 Moving through history
We stayed at historic Mountain Home Inn located on one of the ridgelines of Mt. Tam with views to the bay and San Francisco. The Inn was built in 1912 and each of its 10 rooms face the sunrise. The dining room and awesome deck are open to the pubic to enjoy excellent meals while basking in beauty.
Moving along Cataract Falls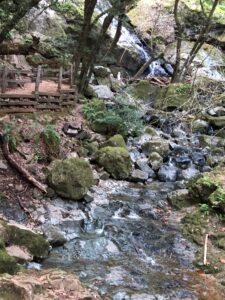 Our destination on Mt. Tam was to hike Cataract Falls. It is a relatively short hike – under 4 miles – with a 1,000' elevation gain and constant challenges. We began on the highway, hiking down to the trailhead at Laurel Dell. The trail itself is a very steep hike and we encountered every imaginable kind of hiking – crossing a stream, steep rock and wooden steps, rooted trails – all the while seeing and hearing the falls alongside. It is rated as moderate to strenuous. Because of our recent injuries and not wanting setbacks, we stopped after a couple miles and returned up the steep incline to where we had started – promising ourselves we would return to complete the hike. This was a highlight for us.
More Moving on Mt. Tam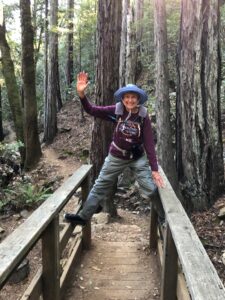 One of the fun things about staying at Mountain Home Inn is that you can walk out the door and have access to a myriad of trails on the mountain. We hiked the Matt Davis and Nora trails to Westpoint Inn and returned on the incredibly steep fire road. Again, spectacular forests, streams, wooden bridges, waterfalls, redwood groves, and incredible views. We will definitely be returning to Mt. Tamalpais in Mill Valley, California for many more hiking adventures.
HAPPY NEW YEAR 2022! I invite you to contact me at joan@dynamicaging4life.com for your complimentary Introductory coaching session!