"If you can imagine it, you can achieve it. If you can dream it, you can become it." William Arthur Ward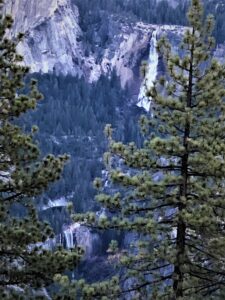 Every day since last May, we have imagined what it will be like to hike Vernal and Nevada Falls in June 2022. The following post is about our personal preview.
From Flat Walking to "Gentle" Hiking
In September, I pulled a piriformis muscle in my left hip. Around the same time, Willis injured his right knee. We spent extensive time in physical therapy. We were limited to walking short distances only on flat ground! Finally, in mid-November our physical therapists gave us permission to begin "gentle" hiking. On November 20, we headed off for a 17-day "movement" vacation/business trip.
Preview Yosemite National Park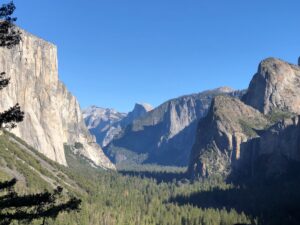 Our first destination was Yosemite National Park. Our intention – to visit Vernal Falls for the first time in probably 15-20 years. We stayed in Tenaya Lodge at Fish Camp, just outside the south entrance to the Park. On our first day into the Park, we were reminded of the beauty and grandeur of one of our nation's greatest treasures. The forests and monoliths of Half Dome and El Capitan, Bridal Veil Falls, the meadow of the valley, Camp Curry where as a teenager Willis had watched the fire fall from Glacier Point, Yosemite Falls, the Merced River – a paradise that has been preserved for the enjoyment of everyone.
Preview from Glacier Point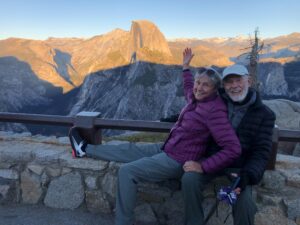 During our initial tour of the valley, we learned that Glacier Point (GP) had been reopened. Usually it closes in October due to snow fall. This year there had been no snow yet so we headed up to one of the most awesome viewpoints. From GP we could look down into Curry Village, watch the sunset on Half Dome, and get a birds-eye view of our June destination – Vernal and Nevada Falls. We stopped by the historic Ahwahnee Lodge and got information on how best to get to the trailhead for the Mist Trail that will take us to the Falls.
Preview of Vernal Falls Hike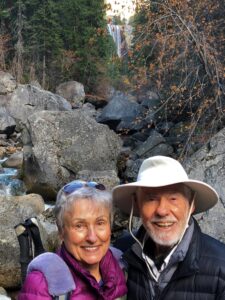 Next day, we parked as close as we could get to the Falls and headed up Vernal Falls. Our plan was to hike a total of 4 miles that day = "gentle" hiking. We got past the bridge over Vernal Falls and up to the beginning of the granite stairs. It was slow going for us due to "flat only" hiking and the elevation starting at over 4,000 foot elevation. It was a thrill to see the falls, hear the sound of the water flowing, feel the mist and experience firsthand our destination.
El Capitan – Up Close and Personal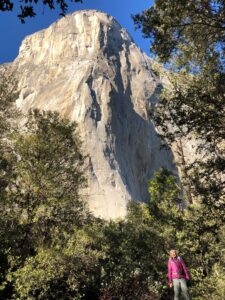 Next day, having seen the movie Free Solo about Alex Honnold and his successful ascent of El Capitan, we wanted to get as close as possible to the base of this landmark – to touch it if possible. We found the trail to the base and started in – then decided it was more rugged than we were ready to tackle this time around. We put it on our list of things to check out again when we are in the Park next June. After 3 fun-filled days exploring the Park, renewing our memories and once again experiencing the joy of hiking in this wonderland, we headed to Sacramento for a family Thanksgiving.
Preview of Strength-Building Classes
In September, my friend and fellow RES (Restorative Exercise Specialist), Nancy Burns, created Be Stronger – a unique on-line streaming class designed for "older" adults to safely and effectively build strength. As the result of extensive research and hands on training and years of personal experience, Nancy has designed a class that provides a safe way to build strength taking into consideration what works to continue to build strength as you are dynamically aging. And I am here to tell you – it works!
Strength-Building on the Road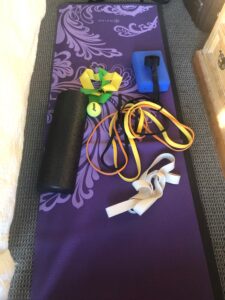 While on our 17-day vacation, I did not want to lose what I have gained. So I figured out a way to take strength-building on the road. I took a thick mat and a yoga mat so I could work on wooden or carpeted floors in hotel rooms. A door anchor and a carabiner provided the hook for my 3 different bands. The equipment was rounded out with 2 mini-bands, a half dome, a block, a tennis ball and a yoga strap. And with that, I was in business. I was able to hook the door anchor over any door that shut securely. At Tenaya Lodge it was the double door between adjoining rooms. In our room at Mountain Home Inn it was the patio door. At my daughter's, it was her closet door. And on the road in Santa Cruz, it was the bathroom door.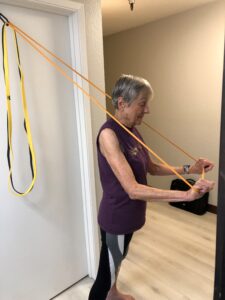 Nancy's next Be Stronger class begins on January 5, 2022. One of the things I have been noticing as I am aging dynamically, is how little fat there is on my overall body and how it seems to have all gathered around my waist and lower abdominals. No amount of diet change, walking, hiking, or climbing trees has made a difference. However, as a result of 8 weeks of class and continuing while on the road, I notice greater muscle strength in my upper body, my arms, core, abdominals, glutes and hamstrings – along with a physical shift in where the body fat mass is showing up. I am noticing more definition in my body and I like it! Come join me in January 2022!
I invite you to contact me at joan@dynamicaging4life.com for your complimentary Introductory coaching session!