Coaching 4 Dynamic Aging – 11/15/2019
Today's blog post is about transformation – at any age. My physical aging process was transformed by the restorative exercise practices I learned from Katy Bowman. Our book Dynamic Aging shares the story of how four wonderful friends, all in our 70s, were able to transform our physical experience of aging – while aging.
Transforming the Paradigm of Aging
Now I am excited to share my most recent transformation journey. My mission in life is to change the paradigm of aging – not just on the physical level. Aging is a whole-body, whole-life experience involving body, mind and spirit. We have learned to transform our bodies through Restorative Exercise. What can we do now to transform our limiting beliefs into unlimited choices and possibilities?
Personal Transformation through Coaching
My transformation began at the beginning of this year. I chose to begin a year-long intensive training program with McLaren Coaching learning to master the skills of transformational coaching. These time-tested skills are used to facilitate discovery and fulfillment of anyone's deepest intentions. Coaching helps you discover what is getting in the way of what you say you want so you can choose to change and create the results you truly want.
Inspiration, Beliefs and Aging
The purpose of today's blog post is to inspire each of you to take a look at what beliefs you hold about your age. What have you sacrificed because of those beliefs? What stories do you tell yourself about why you can't have what you say you want? When in your life have you truly wanted something and it didn't happen? What were the thoughts that went through your head? "I'm not smart enough, I'm too young, I'm too old, I don't know the right people, I've never been lucky, I'm not good enough, I don't have enough money, I don't have enough time, I'm afraid."
At My Age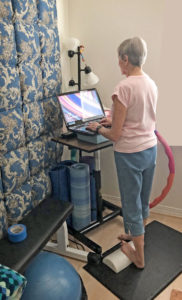 Believe me I told myself all of those things when I decided to take on the challenge of becoming a transformational coach – "at my age." And those thoughts and beliefs continued to come up as I worked my way through this intensive coach training program. I had lots of doubts and considerations. And throughout it all, I had coaching from highly skilled professional coaches as well as from my co-participant trainees. Over the year, I have learned the tools and skills of coaching and practiced coaching with multiple clients. During this experience, my life has transformed as well as the lives of my clients.
Certified Dynamic Aging Coach
Next month when I graduate on December 15th as a certified professional coach, I will be posting a blog letting you know how you can take a giant leap forward into your possible future through coaching with me as your Dynamic Aging Coach.
Contact Me
Meantime, if you have questions about coaching or coach training, you can contact me at [email protected].