Hiking Desolation Wilderness – 10/15/2019
Lora shares her three-generation experience hiking in Desolation Wilderness.
I've been trying to figure out how an area as beautiful as this 63,900+ acres could be named "desolation."

In 1899 this area was part of the Lake Tahoe Forest Reserve. Hikers and backpackers delight in exploring the lakes, granite peaks, glacially-formed valleys, sub alpine and alpine forests in the Wilderness. Both the Pacific Crest and Tahoe Rim Trails pass through Desolation Wilderness which is located in Eldorado National Forest in the central Sierra Nevada Mountain Range in eastern California.
Three Generations of Hikers
This past summer, I, two sons and two grandchildren, arrived early one morning ready to hike and explore. We had heavy packs filled with a water filter, dried food, and, to make it a deluxe trip, we had Tierra Sagrada, or Sacred Earth – describing our hike as well as the Tequila.
Hiking on the Pacific Coast Trail
Our first decision was to take a small boat across the first (Echo)Lake, to take advantage of the last bit of civilization. Our first night was up a great mountain. The trail there is part of the Pacific Crest Trail (PCT). People come from Mexico heading for Canada and we had the opportunity to walk and talk with many of them on their journey.
Hiking While Lost and Found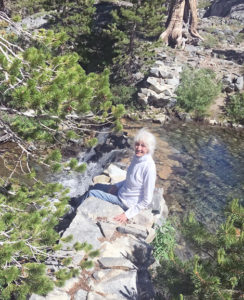 Our three generations set off uphill intending to stay together, but I and both my grand kids got lost at different times. We checked out two lovely lakes the first day. I set out for Lake in the Woods after breakfast first, as I was the slowest. When I knew I was lost, I was walking with a Frenchman headed for Canada. He found the trail I needed before he walked on toward Canada.
Hiking and Gait
I crossed a very large meadow which featured snow, rain, sunshine, spring flowers in abundance and glimpses of trail here and there. Using my toes as a springboard after each heel strike helped when I got fatigued. It was a lovely experience of feeling confident to be walking where ancient footprints have been. I felt I was sharing the beauty that surrounded me.
Reunited Hikers
I was delighted when I heard my family's voices behind me and that we shared this personal yet ancient experience.
By Lora Woods