Dynamic Aging and Mobility Dogs – Part 2 – 8/24/2019
Dynamic Aging and Mobility
Dynamic aging and mobility come in many forms. For me hiking, walking, climbing trees, and just the freedom to move without restriction create the quality of my day. What happens if movement as we know it is suddenly taken away? We then are faced with a life filled with movement challenges. What are the possibilities? One courageous woman created a destiny of service to others by facilitating movement through Mobility Service Dogs (MSD).
Janie's Story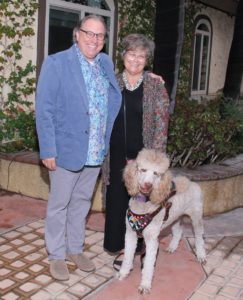 [Correction to Part 1: The crate that fell on Janie was on the ground, not a shelf. It was filled with gardening tools and metal signs. The store did not secure the crate. The Santa Ana winds caused it to tip over and crash down on her causing the severe injuries described in Part 1.] In 2010 at age 53, Janie Heinrich suffered a life-changing injury. She decided she was not willing to spend the rest of her life in a wheelchair. Thanks to her specially trained mobility service dog, Phoebe, she was able to walk again and learn to lead a full life.
When Phoebe retired, Janie applied for a replacement mobility service dog. She was turned down because of her age. Not one to be deterred, she co-founded Mobility Service Dogs – West Coast Project (MSD-WCP) in January 2018. Read on in Janie's own words.
Mobility Service Dog Community Services
MSD-WCP has placed 12 Service Dogs(SD) and Service Dogs in Training (SDiT). We have done Reading Circles in 10 libraries across Los Angeles and one in San Francisco. We will be doing 6-week classes in 17 elementary schools in the Pasadena Unified School Districts. In California, we have done workshops in restaurants in Pasadena, San Marino, Glendale and Nevada City. And, we will be doing more during the 2019/2020 academic year.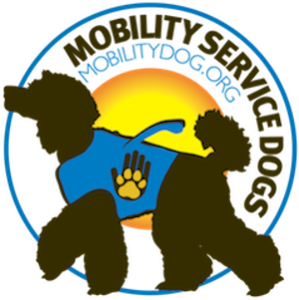 We have workshops for Mobility Challenged and Handicapped individuals. For example, tools are needed for FUNctional independence even though a Service Dog is not their solution for living a more vibrant life. These human and service dog teams are thriving, growing, and learning daily. As a result, they navigate medical appointments, daily life, and the world at large. WE NEED MORE VOLUNTEERS TO RAISE AWARENESS FOR FUNCTIONAL INDEPENDENCE! Contact us at www.mobilitydog.org.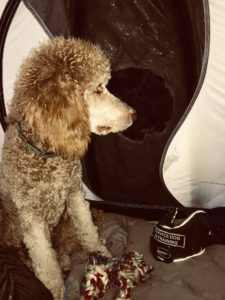 Meet the Mobility Service Dogs (SD)
Our dogs are amazing! Service Dog (SD) Sir Baldwin's puppy-raising and training took him from Arizona to Washington and back to San Diego to meet his forever handler who is wheelchair-bound. SD Arthur was raised by a team in Arizona; after that, he was placed in California. Arthur assists his handler with balance and bracing work. SD Bombay has allowed his handler to continue working and being independent – to everyone's surprise!
And Meet the Mobility Service Dogs in Training (SDiT)
Service Dog in Training (SDiT) Lyss is with a family assisting the grandmother and child in balance work to keep them active and functionally independent. SDiT Frankie has learned medical alert and is growing into his balance, catch, and brace work. Gifford has just begun his SDiT journey. MSD-WCP is excited to see what his future holds as he works with a puppy raiser to learn his personality in order to make the perfect handler match.
Five of the eleven dogs placed by MSD-WCP are litter mates. Carmine, Edison, Hampton, Tango, and Ollie were whelped by MSD-WCP in June 2018. Carmine is working successfully with her SDiT handler in medical alert and balance work. Edison is working hard mastering basics and is in the middle of his Medical Alert Training online. For instance, he alerts his handler 80% of the time and will soon be ready to start doing counterbalance work. Hampton is in Little Rock, Arkansas in SDiT Bootcamp working on balance work and medical alert. SDiT Tango is preparing for balance, bracing, and medical alert work for his handler. And finally, SDiT Ollie was placed in March 2018 and is working on balance work, medical alert, and bracing.
Puppy Raisers Needed
Three SDiTs need to find transportation to begin their Service Dog Training in Boulder, Colorado and Venice, Florida. WE NEED PUPPY RAISERS FOR OUR LITTER DUE IN DECEMBER!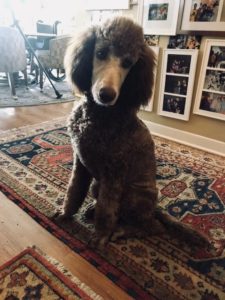 Meet Beckett
After Phoebe retired, Beckett joined me. He is a German-lined large Standard Poodle. Beckett was the first Mobility Service Dog placed by MSD-WCP in January of 2018. Most importantly, he assists me with counterbalance, bracing and soft retrieval work. He is broader and able to brace and counterbalance with ease which allows me to continue my big, beautiful life. His harness and brilliance create FUNctional independence for me. Having a standard poodle is user friendly as they are hypoallergenic for 96% of those with dog allergies. This makes Beckett a better option for me as we travel and are out and about every day.
Janie's Family
My husband, Bob, our four children and five grandchildren keep me on the move and living a very vibrant life! I would be stuck in a wheelchair for life without my Phoebe and Beckett. I am deeply grateful for their energy and love, allowing me to continue vibrant living. Moreover, they make everything possible and give me options. My day is extended in my wheelchair or walking with supportive tools.
Join the Party and Help Keep Mobility Service Dogs Moving
Everything we do is funded by donations. TO RAISE AWARENESS AND FUNDS we are having the Poodle Palooza on September 12, 2019 during Service Dog Awareness Month. We will have dinner, poodle photos, silent auction, live auction, established musicians volunteering their music and a famous DJ from Chicago. We have some famous artists donating art pieces and jewelry from Gifford Myer's Artists & Dogs project. There will be dancing, laughing, and sharing stories. We are looking for more underwriters, sponsors, and a full house to continue our work. Will you join us?