Dynamic Aging and Mobility Service Dogs – Part 1 – 8/15/2019
Dynamic Aging and Mobility
Dynamic aging and mobility come in many forms. For me hiking, walking, climbing trees, and just the freedom to move without restriction creates the quality of my day. What happens if movement as we know it is suddenly taken away? Now we are faced with a life filled with movement challenges. What are the possibilities? One courageous woman created a destiny of service to others by facilitating movement through Mobility Service Dogs (MSD).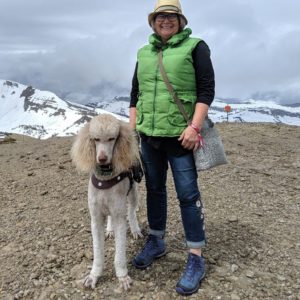 "Health is not something you hope for; it is something you do, something you live, something you create." Janie Heinrich, Health & Wellness Coach, AADP (American Association of Drugless Practitioners)
Meet Janie Heinrich
I first heard of Janie Heinrich from a dear friend of mine. My friend was training one of Janie's Mobility Service Dog (MSD) puppies. I found Janie's story amazing and inspirational. When I met Janie and her MSD Beckett, she was participating in a Dynamic Aging three-hour class I was teaching.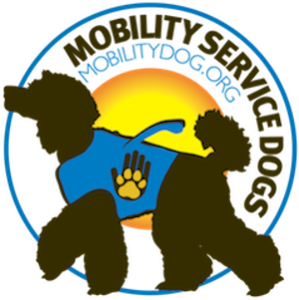 To say I was impressed would be an understatement. I was and am in awe of this person who in 2010 at age 53 experienced a major debilitating accident. As a result, she chose to create her own destiny serving others. Janie is the co-founder of Mobility Service Dogs – West Coast Project (MSD-WCP). Her vision is to raise and train dogs for all mobility disabled humans, regardless of age, and others in need. And, to educate the local community about Service Dog Teams.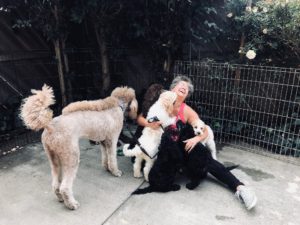 Janie's Story in her Words
In the spring of 2010, while walking through a local grocery store, a heavy crate from an overhead shelf fell on me. The result was serious physical damage. In that moment, my life was forever changed. The impact tore my internal and external rotator cuff at my left shoulder. It severely torqued the base of my spine eventually killing the nerve roots at the base of my spinal column. I was unable to walk or move my left hip and leg without external assistance.
A Time for Choices
There was no surgery, fix or cure to change the outcome of the accident that did not have negative percentages. I saw doctors at the Spine, Orthopedic, and Neurology Clinics of three highly respected teaching hospitals. They told me I would require the use of a wheelchair for the rest of my life. I chose not to own this prognosis nor did I see it as an acceptable solution. I refused to believe my destiny was to be limited due to these dysfunctions. Instead, this incident opened up a pathway for healing, sharing and creating forward motion for myself and others.
Janie's First Mobility Service Dog, Phoebe
Phoebe was my first companion. She was a specially-trained Mobility Service Dog who became an extension of me, making it possible to be functionally independent. While I was in my wheelchair, she assisted me by carrying everything. When I began walking with arm-crutches, she balanced me, carried my purse, and created a gentle fall. As my body changed, creating new difficulties and new challenges, Phoebe evolved with me. Because we were a Mobility Team, I could continue moving forward with aplomb. Phoebe retired at age 11 in fall 2017.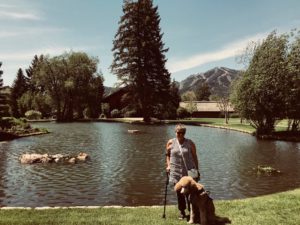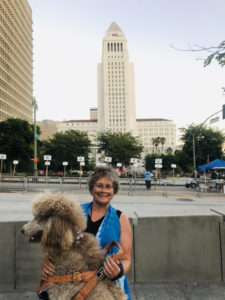 So Much to Learn
During this time, I studied nutrition and yoga practices. I changed my diet, added herbs, essential oils, daily 60-minute yoga practice. I gathered around me a circle of amazing Physical Therapists, Occupational Therapists and a wellness community. With the aid of these gifted well- educated human assistants, I learned to drive with hand-controls, how to walk with Swedish Arm Crutches and to regain functional independence with Phoebe's aid. Today my daily yoga practice, food choices, and swimming keep my body's core strong and ready for the next adventure.
Phoebe Retires and I Find My Destiny
In the fall of 2017, Phoebe's retirement forced me to look for a new Service Dog to maintain my independence. Seeking a new service dog, I learned just two other mobility organizations, combined, receive an average of 220 applications/month! About 82% of those who apply are eligible, but only 5% receive a Mobility Service Dog. I was turned away from four different Service Dog Organizations because of my age. They prefer the dogs be with one handler for the 8-10 years they are working service dogs. At 60, they thought chances were very high a service dog placed with me would have to be re-homed. So they rejected my applications.
Founding of Mobility Service Dogs – West Coast Project
I heard many other similar stories. Then I had a "chance" meeting with Ayami Hirogishe (the other co-founder of Mobility Service Dogs). She told me the story of her aunt's struggles with mobility. I knew we had to do something. Mobility Service Dogs – West Coast Project was created to raise awareness through education and train Mobility Service Dogs. My vision is to educate the local community about Service Dog Teams. And to raise dogs for all mobility disabled humans of any age along with others in need. On January 25, 2018 our non-profit was formed!
Join the Party!
Everything we do is funded by donations. TO RAISE AWARENESS AND FUNDS we are having The Poodle Palooza on September 12, 2019 during Service Dog Awareness Month. We will have dinner, poodle photos, silent and live auctions, established musicians volunteering their music and a famous Chicago DJ. We have some famous artists donating art pieces and jewelry from Gifford Myer's Artists & Dogs project. There will be dancing, laughing, and sharing stories. We are looking for more underwriters, sponsors, and a full house to continue our work. Will you join us?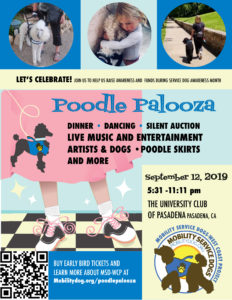 To be Continued
[Janie's story and the story of the Mobility Service Dogs and opportunities for you to participate in this form of movement will be continued in Part 2 of this blog post to be published September 1, 2019.]