Outdoor Movement at 80 Centerfold – 9/15/2018
Okay, so it's not really a "centerfold." Shelah, co-author of our book and graphic artist for this blog, informs me it is not really a "centerfold" because it is not in the center of the magazine. It is  a two-page "spread." I ask you, does the title "Two-page spread at 80!" pique your interest?!?
Outdoor Movement at 80
I was contacted last June by Katy Bowman's Public Relations person. She had received a query from Cindy Kuzma, a highly respected health and fitness writer, for an article in the USA Today Best Years Fall/Winter 2018 magazine. They wanted instructors with expertise in the fitness industry to discuss attributes of indoor vs outdoor workouts for women 50+. For this reason, she asked if I would be interested in a telephone interview with Cindy. Of course I was delighted and excited.
The interview took about 45 minutes and was lots of fun. I enjoy talking about Katy's work and the difference it has made in my life and the lives of my co-authors. Cindy said the magazine would be on newsstands in mid-August  electronically. USA Today Best Years Fall/Winter 2018, pp. 74-75. The title of the article is "In or Out."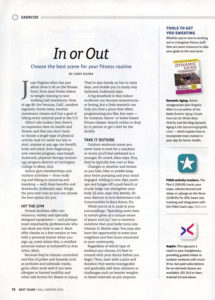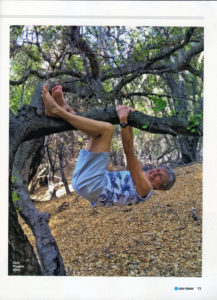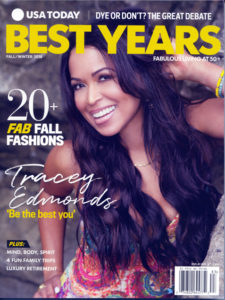 The "photoshopping" on my picture is impressive. For example, while having lunch together the other day, Lora saw it and said, "You don't have a wrinkle anywhere – even your  feet look perfect!" Shelah and I reminded her about the talents of "photoshopping" as we compared our wrinkles of reality.
In the article, notice the plug for the book and this blog. (See upper righthand corner of left page under Tools to Get You Sweating.)
Sharing Movement
In the article and photo I am sharing my experience of outdoor movement at 80. Thanks to Katy's suggestion that I could climb a tree "even at my age" (then 78), here I am today. I am discovering a world of new opportunities for movement outdoors including hiking, climbing, hanging, and balancing. Coupled with Katy's alignment tools integrated into my daily life, I am moving more and moving better – dynamically aging!
Thank you, Katy! I am grateful for what I have learned from you as it has changed and continues to change my life.