"The important thing is not to stop questioning. Curiosity has its own reason for existing." Albert Einstein
"Curiosity" Distinctions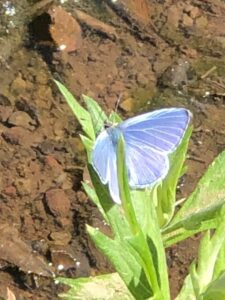 One of the first skills I learned in coach training was how to be genuinely curious. There is a distinction between curiosity for the sake of gathering information – what kind of ice cream do you like? And "genuine" curiosity which seeks to go deeper, learn more. For example asking what is your favorite dessert? If it turns out to be ice cream, then asking what is there about ice cream that you enjoy? What is special about ice cream for you? When is your favorite time/occasion to have ice cream? This begins to create a relationship. The other person is feeling heard.
Curious about Us on the Trail
We are learning a lot about curiosity as we explore the various trails in preparation for hiking the Falls. Not so much the elevation and the distance and degree of difficulty – although those are important pieces of information. This curiosity is more around why are we choosing this trail? What do we want to learn about ourselves and our hiking ability on this particular trail? What was the hardest part of this trail and why? How might we use this knowledge to improve our skills for hiking the Falls in Yosemite in June.
Curious about our distance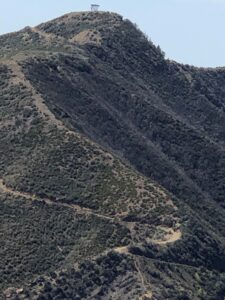 The month of March saw us taking on two different trails. We had hiked both before; however, not for a long time. The first is called Howard Creek in the Los Padres National Forest. It's the shortest hike to the ridgeline of Nordhoff Peak – less than 3 miles. When you get to the ridgeline, you can continue on a couple miles to an old abandoned fire lookout tower. We can actually see that tower from our home. We completed an 8-mile out and back that day using our frame back packs weighing between 10-11 pounds with enough water for the hike.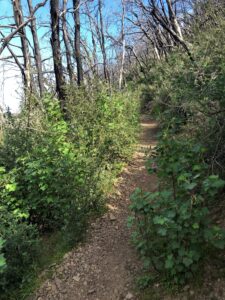 The view from the ridgeline was stellar – all the way to the ridgeline where we live and on to the ocean. There is still evidence of the Thomas Fire in 2017. One of my favorite things about this trail used to be the micro-climates along the way. There were some beautiful oak forests. Now they are burned leaving only stark reminders of what used to be. And, still beautiful in their own way.
Curious about our endurance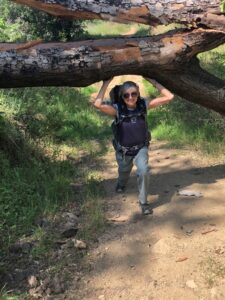 Our second "big" hike (meaning full backpacks like what we will use in Yosemite and a distance of 6 or more miles, rated at least moderate with a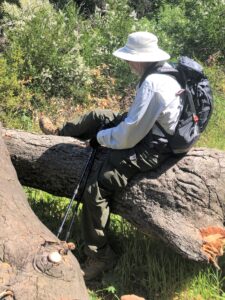 substantial elevation gain), was the Loop Trail created out of three trails we have hiked before. Elevation was over 1,000 feet and distance was 6 miles. Our curiosity here was to check out how we are building our endurance on a long, steep uphill. It is still as hard as ever. However, we are noticing definite improvement in our pace and not needing to stop to rest. The trails had some great "features" – logs fallen across the trail for us to navigate.
Curious about physical challenge
I am having a chronic physical challenge – nocturnal leg cramps. It has been going on for several months. I attributed it to my strength-building and hiking with a back pack. Then it got worse. I was up 4 and 5 times a night with excruciating cramps like nothing I have experienced before. They come on only at night. Sometimes it's in the inner thigh adductors, or it goes up the side of my shank (lower leg). Sometimes it curls my toes under, or comes up the front of the shank pulling the big toe skyward. These are so painful they wake me repeatedly from a sound sleep, requiring me to get on my feet in order to get some relief. Finally, they have started to interrupt my sleep pattern so that at times I feel fatigued during the day. Naps help some but not with the pain during the night.
I talked to my family doctor and my uro-gynocologist and an endocrinologist and none of them have any kind of remedies other than hydrating, eating bananas for potassium, taking a magnesium supplement, stretching and getting exercise. Most of these I am already doing and I added a magnesium supplement specially formulated for nocturnal leg cramps. They did not work. I tried taking an electrolyte drink before bed and it seemed to work sometimes. I had my hormone levels checked. Apparently, if there is a lack of aldesterone, no matter how much water you drink, the kidneys are not able to utilize it and exercise can exacerbate the situation. My results showed normal adrenal levels. Over the next 4 weeks I am using a couple anthroposophical remedies suggested by a doctor friend.
Curious about our commitment
We check back on our WHY for doing this – preparing to hike the Falls in Yosemite in June. This is what keeps us going. Our commitment is to do whatever it takes and see what happens.
I invite you to contact me at [email protected] for your complimentary Introductory coaching session!