Desert Hiking – 2/26/2022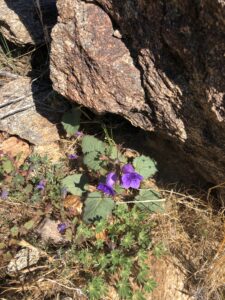 "A flower blooming in the desert proves to the world that adversity, no matter how great, can be overcome." Matshona Dhliwayo
As we continue our preparation to hike Vernal and Nevada Falls in Yosemite National Park in June, we are encountering our own brand of adversity such as injuries. Seeing this flower blooming on our hike up the desert mountain, we were reminded that having a clear intention and the commitment to do whatever it takes can help overcome the obstacles that may occur on the journey.
Desert Hiking in Indian Canyons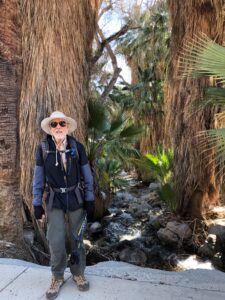 South of Palm Springs is an area of amazing hiking opportunities. The Indian Canyons are the ancestral home of the Agua Caliente Band of Cahuilla Indians. As the highlight of hiking for the month of February, we visited vacationing family in Palm Springs and chose to explore this area.
There are multiple canyons available for hiking. We had chosen a loop trip rated as "moderate" with a little "strenuous" starting with the Palm Canyon trail to the Indian Portrero Trail to the Stone Pools. There was currently water in the stone pools and we were so excited to do this 7-mile hike in the beautiful early spring desert weather.
We scoped it out on Sunday, 2/20, and loved the row of fan palms lining the first mile of the hike. Our plan was to hike the next day, Monday, before we left on Tuesday. When we awakened Monday and checked the weather report, there was a high wind advisory until late Tuesday evening. We headed out anyway and when we arrived at the Indian Canyons toll gate, we were advised the loop we had planned to hike was experiencing high winds and hikers were advised not to hike it. Bummer!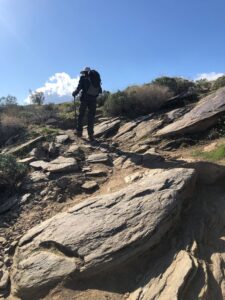 We hadn't come this far to be thwarted in our desert hiking plans so we headed to another canyon where winds were nominal. The problem was those trails were short – 1-2 miles – and rated as "easy." We felt we were past that and wanted more of a challenge as we prepare for our June hike in Yosemite.
Desert Hiking Challenge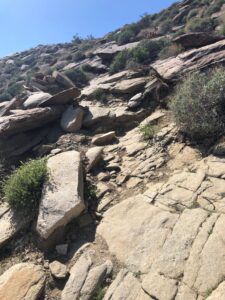 We found a trail sign for the Maynard Mine trail – 6 miles total out and back with over 2,000 foot elevation gain – rated as "strenuous." Although we preferred "moderate" with some "strenuous" thrown in, we decided to check it out. As we approached the trailhead, an employee of the Reservation asked what hike we were doing. We told him and his comment was "Good luck!" We asked what he meant by that. He said it was straight up the mountain and hard. We looked at each other and decided to give it a go.
It started out okay – a good path, stunning views of the desert and surrounding mountains, the perfect temperature for hiking – we were excited! Within about one-half a mile, the trail(?) turned to rock. We had never hiked on anything like this. It was very slow going – both steep and daunting.
Desert Hiking Surprise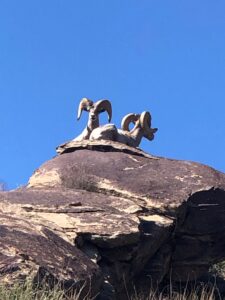 Here was one reward for our perseverance – two long-horn sheep rams. The rock they were on was directly in our path. We decided to wait and see what they decided to do rather than risking being perceived as a threat to them. After about 15 minutes, they wandered off.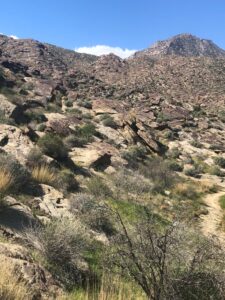 We continued on ever so slowly due to the rockiness and steepness of the trail. It took us almost two hours to cover 1.61 miles and nearly 1,000 feet elevation gain. We continually watched as storm clouds raced over the tops of the mountains near Idyllwild. It was spectacularly beautiful and menacing at the same time – wondering what weather we might expect. When we felt the wind pick up, we decided it was time to turn around. We were out a total of three hours and covered 3.24 miles. Definitely not our longest hike in either distance or time. It was, however, the most challenging trail we have encountered since hiking on Mt. Fuji when we were in our 40s.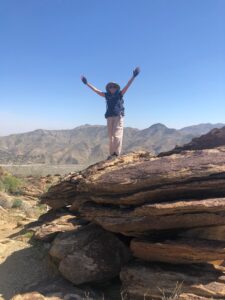 We are glad we did it and survived and are stronger for it. The beauty of the desert in the spring is breath-taking – unlike any other place we have hiked. If you've never hiked in the desert, we can highly recommend the experience in the springtime.