Gratitude in Life – 3/15/2020
There is nothing like an unexpected event or set of circumstances to make us aware of the many places in life we can find reasons for gratitude.
Gratitude for Recovery
I had pelvic prolapse surgery on 2/27/2020. The surgery appears to be successful. I say appears because I am only two and a half weeks into recovery. So far the doctor is pleased with the results and so am I. I had an A&P (anterior and posterior vaginal wall repair). I chose to have a spinal anesthetic because of my concerns about having a general. When the feeling returned to my lower extremities, my bladder and bowels were no longer functioning properly and suddenly I was in a world of hurt – NOT from the surgical site. It was an intense pressure pain in the rectum.
Gratitude for Being Pain Free
I had expected some pain from the surgery. The doctor had said I probably wouldn't need more than Tylenol. The first night in the hospital they had to give me morphine for the pain. It didn't touch it and made me nauseous. Then they moved to a marvelous prescription-strength nsaid called Toradol which is non-opioid and non-addictive and was very effective for my pain. I was sent home the day after the surgery – Friday. By Saturday the rectal pressure pain was so intense, I went to the Emergency Room.
Gratitude for Elimination
In the ER they found my bladder was retaining urine so I was re-catheterized. A CT scan showed I had a moderate colon fecal impaction which was interfering with bowel function so they gave me an enema (with virtually no results). They sent me home still in excruciating pain with the enema kit. By Tuesday, I was beside myself with the pressure pain and no bowel movement. Thanks to support from my family, the intolerable pain, and my pleas for help, my doctor was able to get me readmitted to the hospital that night for a water irrigation stool disimpaction procedure under general anesthesia. The impaction turned out to be the size of a grapefruit and hard as a rock! It's "elimination" resulted in immediately being pain free.
Gratitude for Control of Elimination
The doctor says a normal side effect of a water irrigation stool disimpaction is leaking from the rectum. Great! Now I was not comfortable leaving the house. To resume normal bowel functioning, the doctor emphasized the need to be getting 25-30 grams of soluble dietary fiber daily and she recommended taking a 100 mg stool softener each day. She assured me taking it daily had no side effects, contrary to laxatives that may cause bowel damage over a long period of time. My mind kept asking, "Will this ever stop? What if I have leakage forever? How does one deal with that?" Finally after 12 days the leakage has subsided and there is control.
Gratitude for Health
I do not suffer from constipation. I did until about six years ago when I changed to plant-based nutrition. That was the answer for me. The doctor asked pre-op if I had a problem with constipation and I honestly said no. Where this "grapefruit" and two 5-gallon buckets of sludge came from I will never know.
Gratitude for Caring
I have complete trust in my urogynecologist surgeon. She has all the experience and credentials to make her trust-worthy. And I have interacted with her over the past 5 years as she guided me through caring for the pelvic organ prolapse. She is great at explaining everything. During this period of extreme stress for me, she was always there for me. I know that she genuinely cares about me.
Gratitude for Movement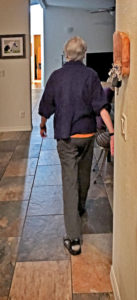 The recommendation after A&P surgery is to start walking as soon as possible from 5 to 15 minutes 3-4 times a day.
When I returned home the second time, I began a regular routine of walking the length of the house inside. I used my Vivofit2 and learned that 5 roundtrips equaled one-tenth of a mile. It wasn't long before I was walking more than two miles a day indoors (to stay near the bathroom). After watching me for a few days, Willis decided to join me so he could rack up additional mileage. And here's the good news! I can work on my posterior push-off, keeping my feet straight and dropping my ribs. I also incorporate my Alexander technique to allow myself to feel like a helium balloon trying to rise to the sky which lets everything fall into place without "doing" anything.
Gratitude for Love
Throughout this difficult time, my husband Willis was always there for me. Afterward he shared with me how difficult it had been for him to see me in so much pain and discomfort and not be able to do anything about it. He transported me and stayed with me throughout both hospitalizations. After 47 years together, I will never take his love for granted. I will always treasure sharing my life with him.
He ended up getting sick and so the day I was released from the hospital after the procedure, Lora came and picked me up in her beautiful red Tesla. I learned a lot about love and caring from family and friends during this experience. And I will always have gratitude for having them in my life.
Gratitude for Coaching and my 2020 Vision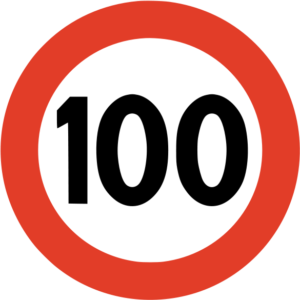 My vision as a coach is to connect with at least 100 different people in 2020. I want to gift the experience of coaching by giving an introductory call. This is your opportunity for a win-win – support me in connecting and add something to your 2020 Vision. How risky does that feel to you – the thought of emailing me and scheduling a coaching call just to see what it is like? Would that be a s-t-r-e-t-c-h for you? What is getting in the way of you taking that risk, sending that email? Could this be a first step in stepping out of your comfort zone and into a world of possibilities? You'll never know unless you do it! And, I can help you discover and create your 2020 Vision through coaching.